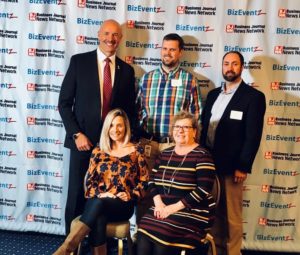 Syracuse, NY – Westelcom was nominated and received the  Community Service Excellence award at the 5th annual Family Business Awards of CNY which recognizes and honors family owned businesses that are headquartered in Central NY. This specific award was for a family business that is supporting the needs of the CNY community through direct financial support, volunteering of their time and that of their staff for the betterment of organizations in community. President Paul Barton and team accepted the award at the Sheraton Syracuse University Hotel & Conference Center.
The CNY Business Journal News Network hosts this event and states "Family businesses are an integral part of community both economically and socially. These companies have been around a long time, some more than 100 years and run by multi generations. The time and commitment they have generously devoted to the community and their employees is why we are honoring them this year. They have made a positive impact where they work and live. They are setting the example today and for generations to come. That's how community is built."
Since 1905, Chazy and Westport Communications has been an independent local telephone company with offices in Chazy and Westport, New York. Years later and three generations deep this family owned business has expanded throughout NY state with a continuous connection to community.  Westelcom was formed in 1982 as a wholly owned subsidiary of Chazy Westport Telephone with offices in Watertown, Plattsburgh, Westport and Chazy. Since Westelcom's inception, it has grown from a telephone-systems installation provider to a regional telecommunication carrier providing highly advanced telecommunications solutions throughout the six-county region of Northern New York spanning from Lake Ontario to Lake Champlain. Westelcom's professional staff has more than 150 years of combined experience in the telecommunications and Information technology industries, providing carrier-class communication solutions design, implementation, and support.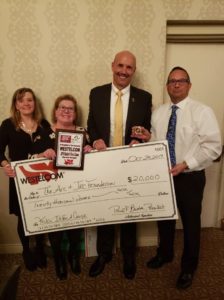 Positive, measurable, and involved, Westelcom is an integral part of the Northern New York landscape. The company understands the importance of a strong community and is committed to donating approximately 30% of its annual net profit back to various businesses and organizations within the six-county region each year. Westelcom believes that its success is directly tied to the communities it serves. The company is dedicated to being a strong corporate citizen with deep seated roots in community contribution and volunteerism. The leadership team and employees are active in and around Northern New York, including with nonprofits such as: American Heart Association, Adirondack for Kids, American Cancer Society, Plattsburgh Little League, Jefferson Leadership institute, The United Way, The Red Cross, and area chambers of commerce (Malone, Watertown, Plattsburgh North Country, Elizabethtown, Westport, Clayton). The company sponsors and supports events like Over The Edge, The Spoker Ride, ADK Golf For Kids, The Mayers Ball, ECH Golf Tournament, Adirondack Harvest Festival, CNY Composite Mountain Bike Team just to name a few. Each year Westelcom organizes and sponsors their annual Kickin' IT For A Cause kickball tournament which raises thousands of dollars for a specific local non- profit. In 2018 $15,000 was given to River Hospital in Clayton, NY to build the Monticello Wing, designed to help heal and support soldiers with PTSD as well as children's mental health. In 2019 the company donated the proceeds to support The Arc with their efforts to provide space and technology necessary to perform state of the art speech therapy to all ages. Westelcom raised $10,000 at the Kickball event and matched that amount for a total of $20,000 in giving. The company plans to host Kickin IT For A Cause in September 2020 as their main charitable event/contribution.  The company plans to go in 2020 expanding this event, developing even more intimate relationships within community and supporting the amazing organizations that make the North Country a unique place to live.